Would you like to work with us?
Bart & Gabriel Pet Sitting is hiring for all our service areas in Grove City,OH and south Columbus, OH! Interested or know someone who would be? Please contact us at natasha@bartandgabriel.com.
---
Natasha Borders
Owner and Pet Sitter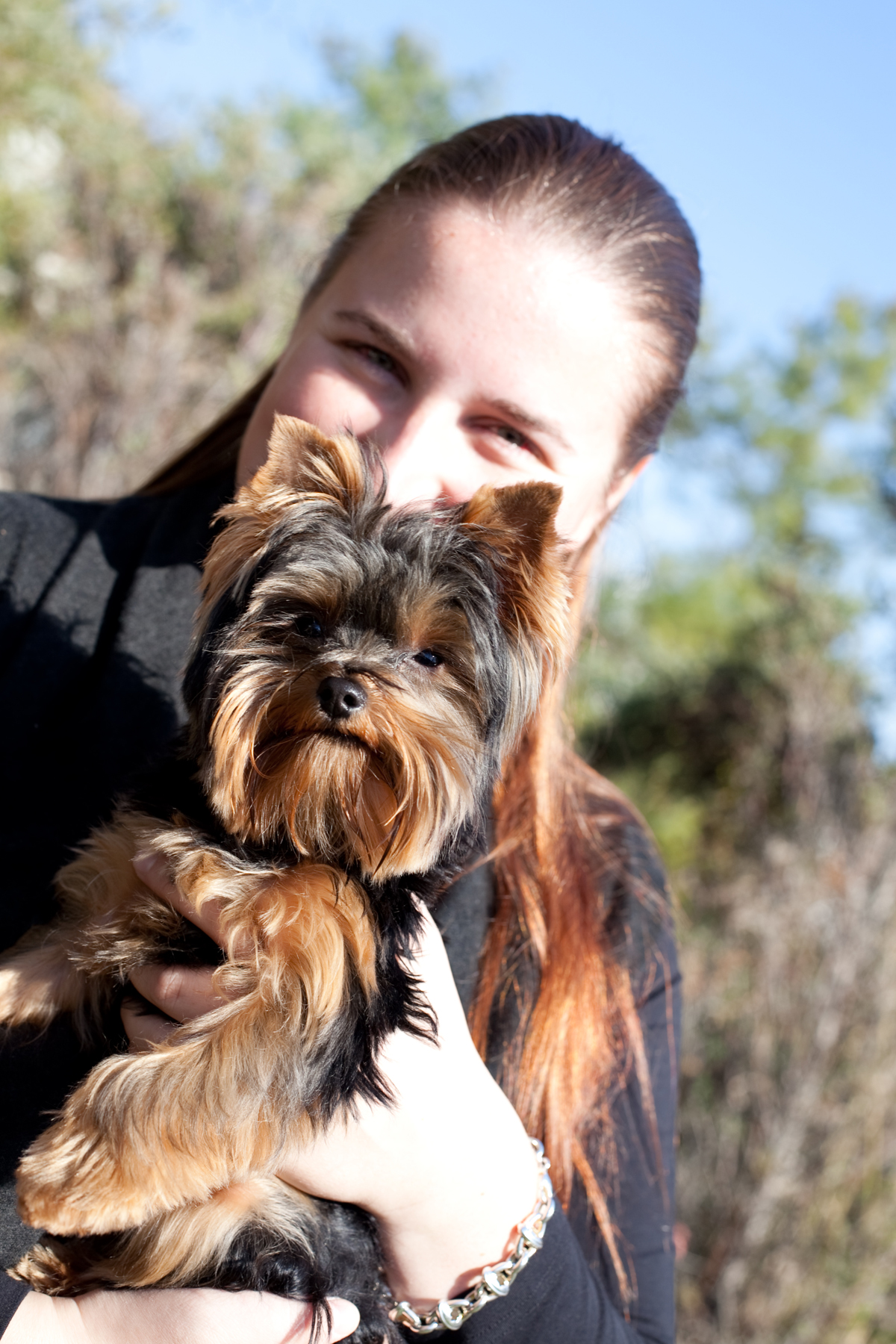 My name is Natasha Borders, and I am the proud owner of Bart & Gabriel Pet Sitting LLC.I live in Grove City, OH with my husband, our Yorkie Bart, Schnauzer Jax and our aquatic turtle Dany.
After graduating from Ohio Wesleyan University in 2004, and receiving my MBA from Cornell University in 2007 with a specialization in Marketing, I believed that the world of business would be my career destination. However, after a couple of busy years spent in a cubicle, I realized that I should be out there walking dogs and caring for pets instead. Throughout my life I always enjoyed having a pet, going from a parrot, to a turtle, then fish, a hamster and, finally, dogs and a rabbit. I can never pass a petting zoo without paying a visit, and I always enjoy meeting the pets of all the people that I know. Because of this I knew that working with animals would be a great career choice for me. I will take great care of your pets because I believe that every pet deserves as much love, affection, and care as we can possibly provide. Below are the stories of several special pets who are currently in my life, which are an inspiration for me and a confirmation of how love and affection can change an animal's world.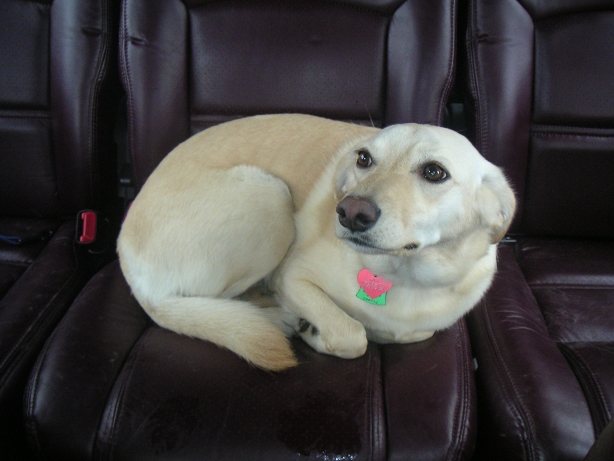 I met Kira while I was in college. She was in a pet store where she and her puppies were being sold. Although I came in looking for a puppy, I was horrified at seeing this beautiful two year old whippet/lab mix being used as a breeding machine. She was surrounded by two litters of puppies and looked exhausted and thin. I decided that I could not leave her there. The store personnel told me that in her previous home, she was abused and not even allowed to come in the house. Once Kira came home with me I discovered that she was afraid of men, stairs, and thrown objects (including dog toys – instead of chasing them, she'd try to hide). After a long journey, Kira and I learned a lot about living together, I got her spayed, and taught her to play again, and to go upstairs. She regained a healthy weight and and a nice, shiny coat. After a while, I had to leave for graduate school, and Kira found a new home on a farm where she could run free (as whippets love to do), with a few friends to play with and a wonderful family to care for her. I still visit her regularly as she grows older and less agile, but still extremely happy.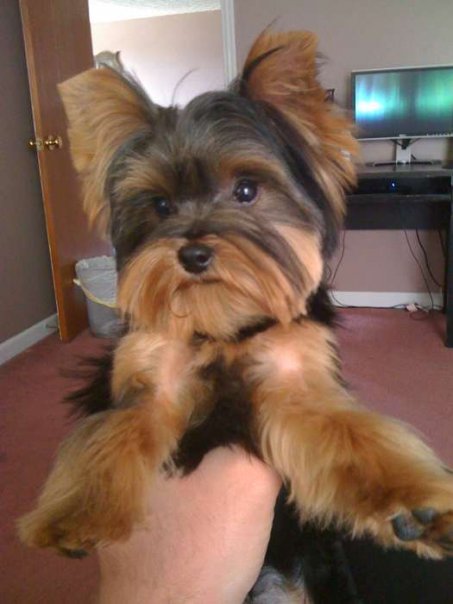 Bart is a playful Yorkie puppy, whom we adopted in 2009. Bart is fearless and very friendly, he loves meeting everyone, and enjoys being picked up, petted and cuddled. Of course, boys will be boys, so Bart has gotten himself in his full share of accidents, such as eating a tiny piece of caffeinated soap in our bathroom, and tumbling down the stairs to end up with a fractured leg. He did not appear deterred, however, and impatiently waited for his stitches to come out so he could venture out once again. In the course of caring for Bart, I learned the best ways to calm down a bored puppy, how to administer medicine to a struggling dog, and how to perform passive range of motion exercises for dogs that have been injured.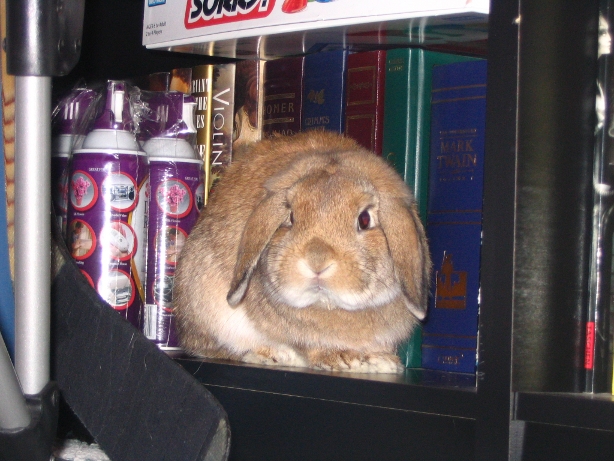 Gabriel was our Holland Lop rabbit. While I have not often encountered rabbits as pets among our friends and family, they do enjoy a growing popularity. Gabriel passed away at the age of 9, in May 2014. He was a free-roaming bunny and hoped around the whole house, although he did come back to his cage to sleep, eat, and to use the bathroom. He was as calm and sweet as Bart is energetic and adventurous, and he enjoyed nothing more than stretching out on a lowest shelf of the TV stand for a nap. I am sure there will be other pet rabbits in my future but Gabriel was our first pet together with my husband and he'll always be in our hearts as a very special bun!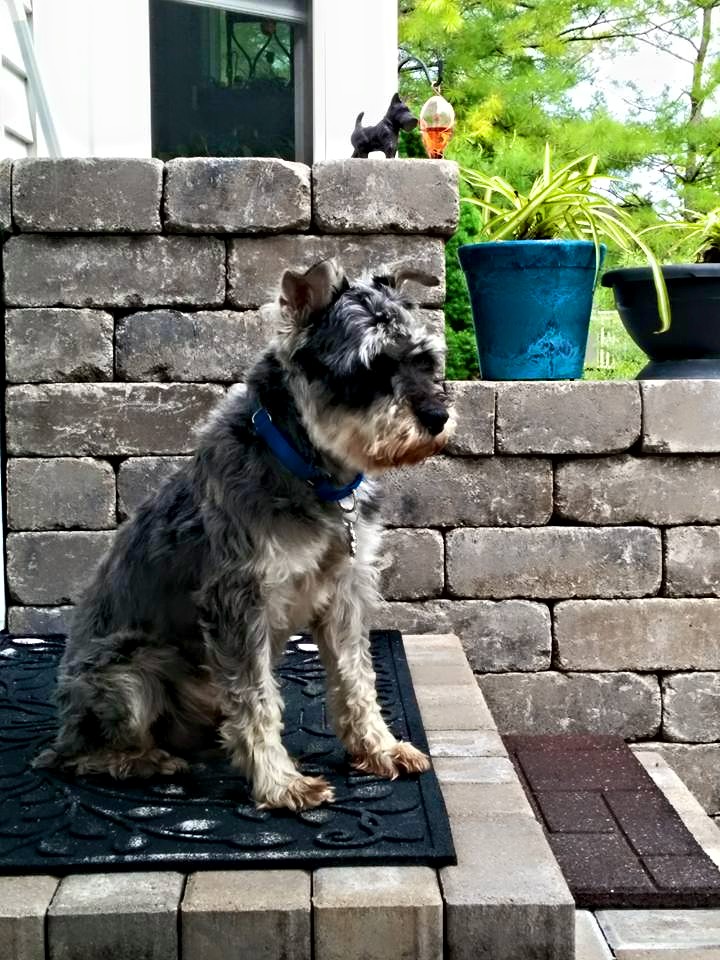 We have welcomed Jax to our family in 2015, he is 7 and full of typical schnauzer antics. He came to us from Schnauzer Friends for Rescue and Adoption, and he gets along with Bart pretty well! He quickly became a part of our family and is very patient with his little disabled brother. Bart, for his part, tries to copy everything Ajax does which makes for some comical scenes. He has passed away in 2018 due to a fast acting cancer and we are looking for another rescue companion for our little Bart.
I am proud to be a woman business owner in Central Ohio, and very happy to call Columbus, and Grove City in particular, my home!
---
Sharon Stoehr
Pet Sitter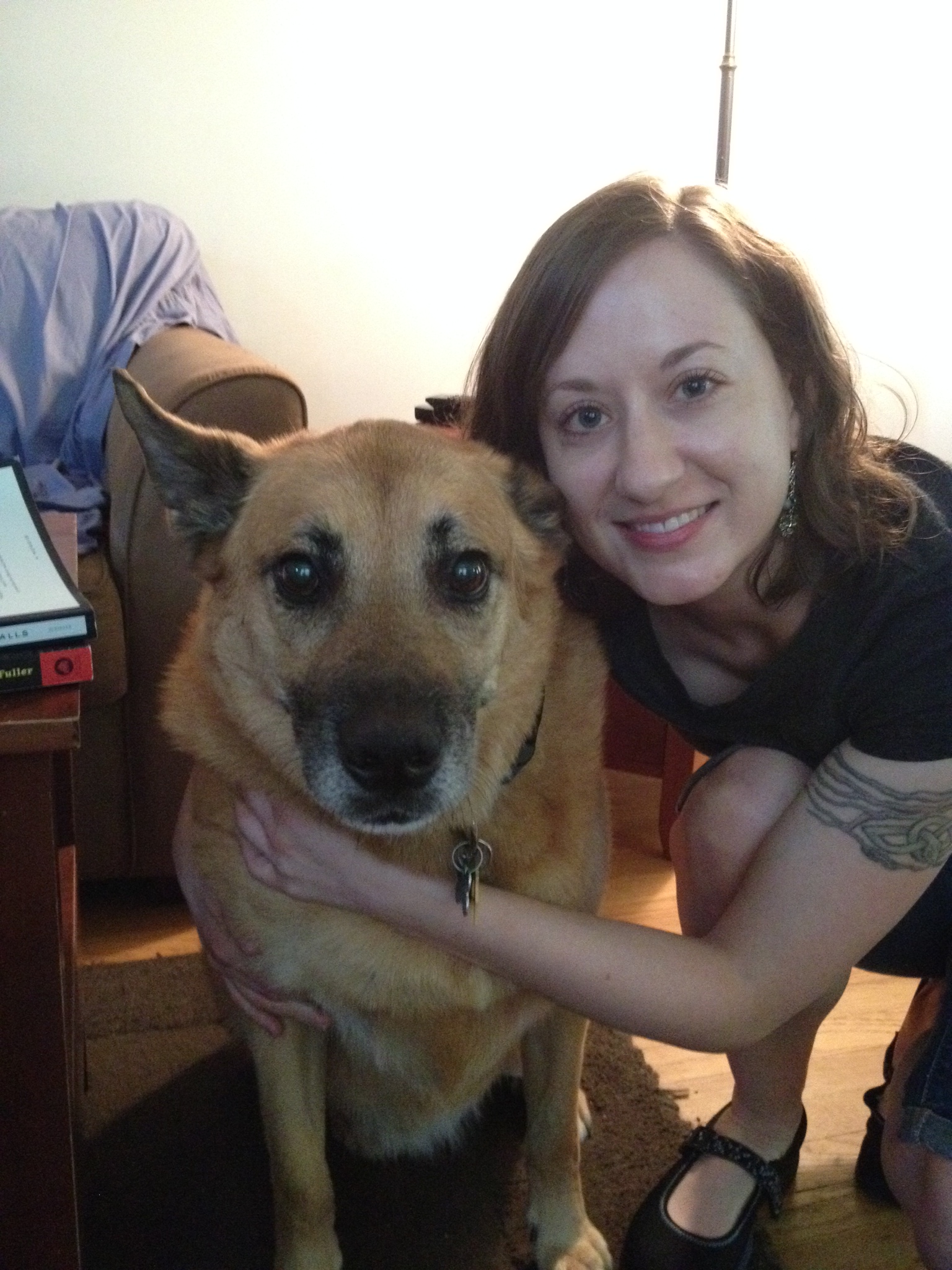 Hi, I'm Sharon Stoehr and I live in Merion Village with my German Shepherd mix, Murdoch, and my two cats, Lilith and Maynard. A San Diego native, I've lived in Columbus for nearly 6 years. I'm an avid runner and have completed 9 half marathons and will run my fourth marathon in October. I graduated from the University of Missouri-Kansas City with a degree in English.
I currently work as a Technical Writer and Project Manager, and although I enjoy my full time job, I really wanted to engage in my passion, interacting with and caring for animals. I have had pets all my life, including cats, dogs, rats, a bird and a rabbit. I have done pet sitting previously and worked part time at a cat clinic. I am the happiest when I get to spend time with animals.
I am very excited to have this opportunity to work with Bart & Gabriel Pet Sitting and meet some new pets!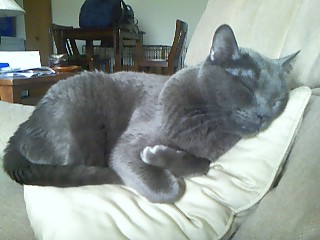 ---
Jacklyn Binzer
Pet Sitter, Dog Walker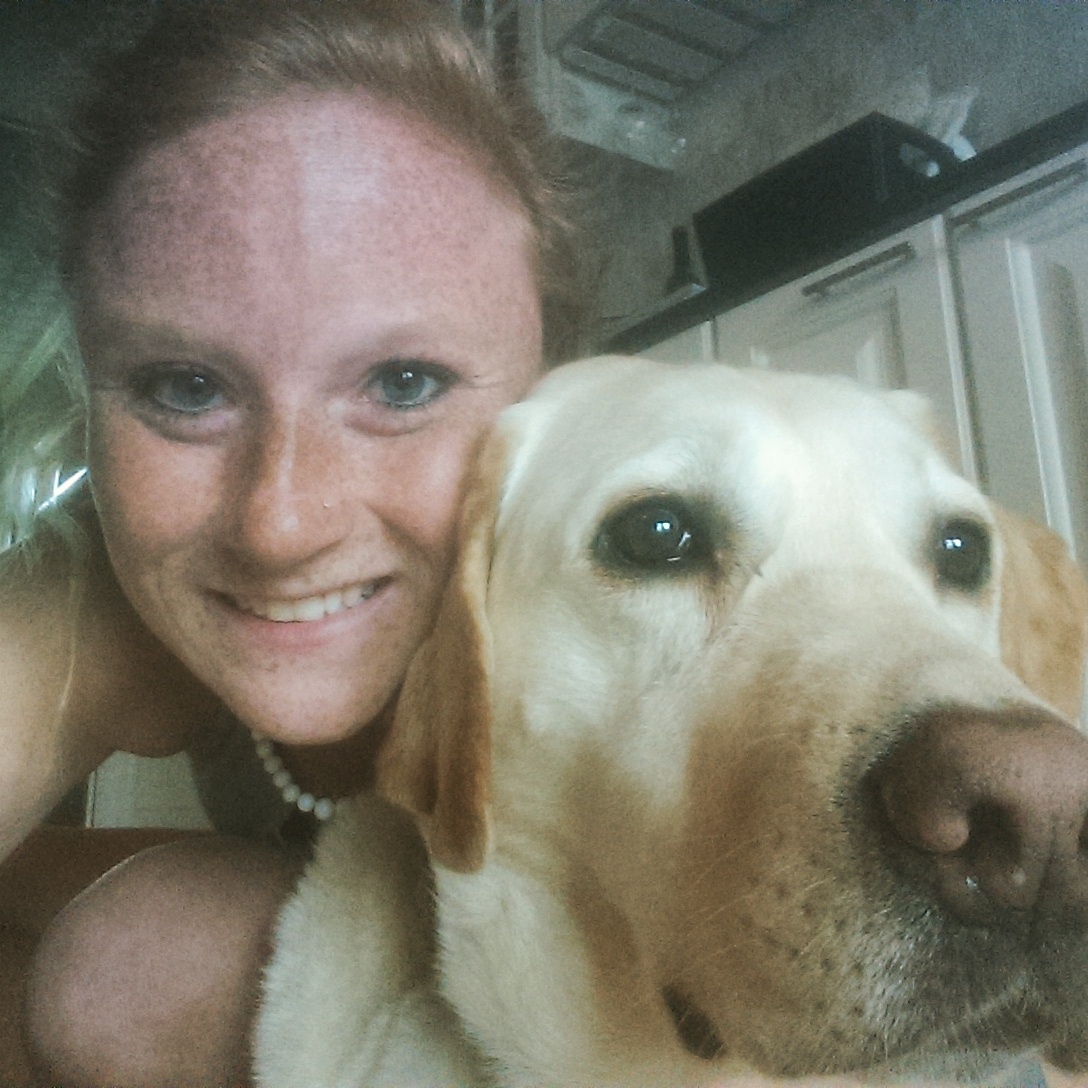 Hi! My name is Jacklyn Binzer and I live in Grandview with my little Pomeranian named Swift. She is a rescue who was found on the side of a back country road. She has been with me for a wonderful 6 years now.
Swift and I just moved to Columbus from Lexington, Kentucky. I worked for almost 6 years as a pet sitter in Lexington and found that it is what I am most passionate about. I have a lot of experience working with all types of pets.
I am very excited to be pet sitting for Bart and Gabriel and can't wait to meet all of my new best friends… your pets!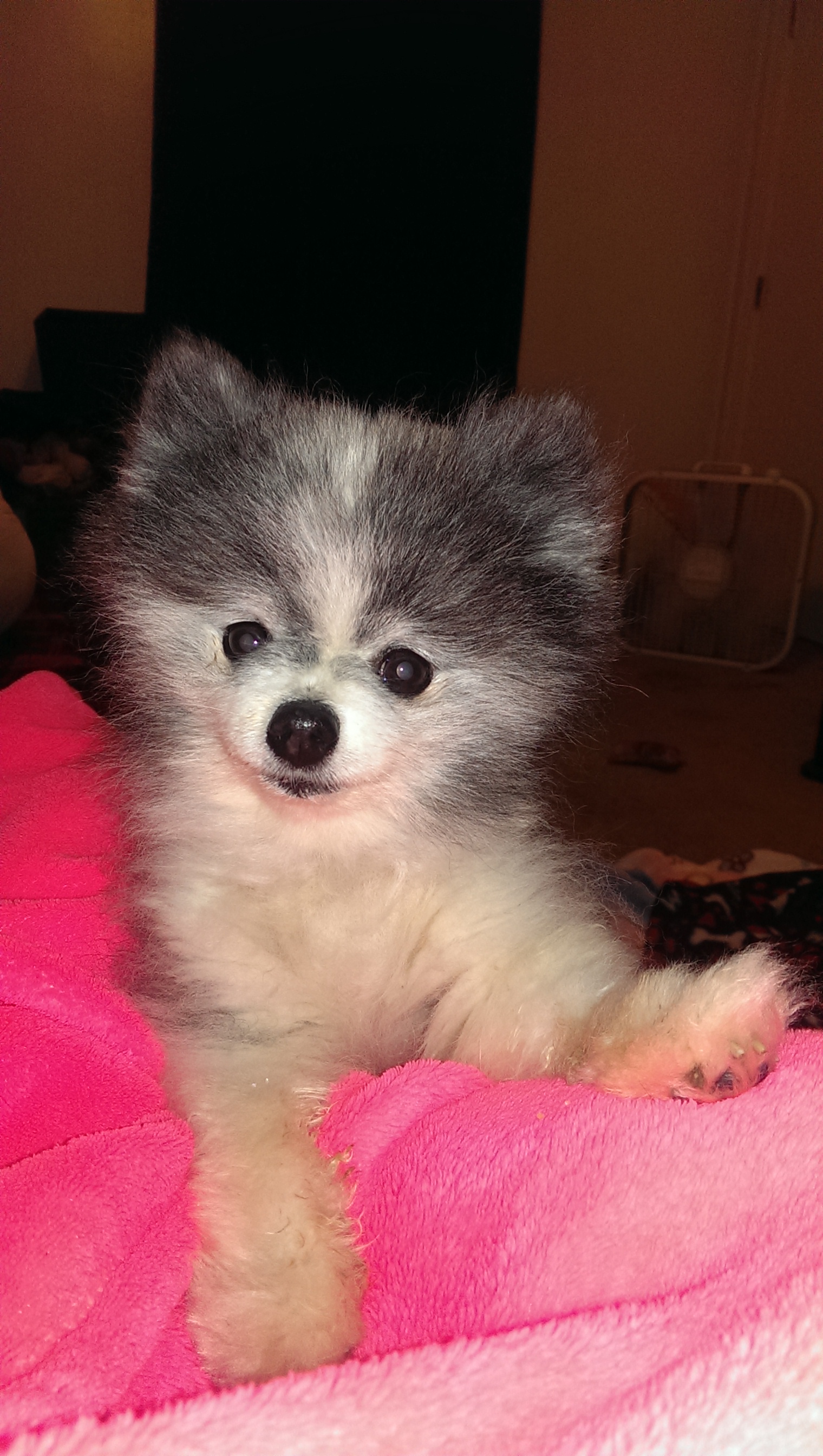 ---
Sarah Jernigan
Pet Sitter, Dog Walker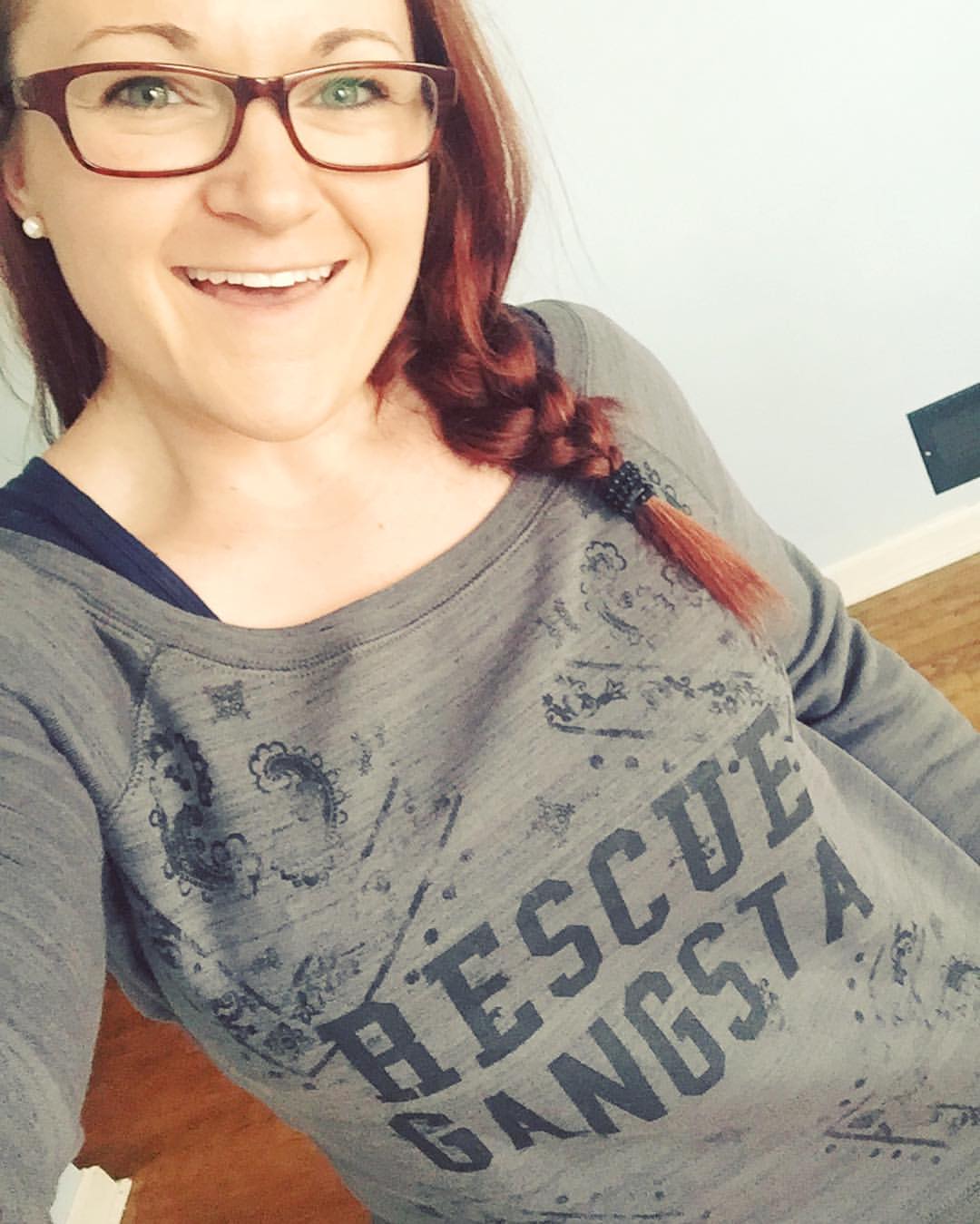 My name is Sarah Jernigan and I live in the beautiful neighborhood of Westgate with my husband, three dogs, and our forever revolving door for foster dogs. I have had a heart for animals ever since I can remember, which is surprising since neither of my parents care too much for them. During my childhood I had all sorts of pets including cats, turtles, guinea pigs, a snake, gerbils, a bird and as I became more mature, my parents allowed me to have my first dog. A German Shepherd named Nike. She is where my love for dogs started to blossom.
When I moved out of my parent's house I got Bruce, my now eight year old English Bulldog. He has been through the darkest of times with me and the brightest of times. He never knew which were which, but he loved me anyway and let me love on him him through my pain and also my joy. His favorite things in life are eating and sleeping. In that order.
My husband and I adopted a Lab/Pit mix in May of 2015 and this dog, Kimber, has taught me so much about myself and the type of parent I will be. She has the attitude of a 13 year old teenager, the sassiness of a 4 year old girl, and eyes that will con me into giving her anything she wishes. Her favorite thing in life is being the center of attention and pretending she's not a dog.
Our newest addition is a 5 year old black Pitbull named Blue. He was found as a stray in our neighborhood on Easter of 2016. I took him in through the rescue organization I volunteer with and he quickly became the missing piece to our household. I'm sure that he's only the first of many foster failures to come for our family. His favorite thing in life is to keep our yard safe from birds and squirrels and when he's not protecting our yard you can find him pretending to be my shadow.
With having three dogs of our own and fostering puppies our house can surely be chaotic, but I flourish in chaos and miss the noise when the puppies are gone. I can promise to treat your dog as one of my own.
I am grateful for the opportunity to work with Bart & Gabriel and for the chance to care for your pets.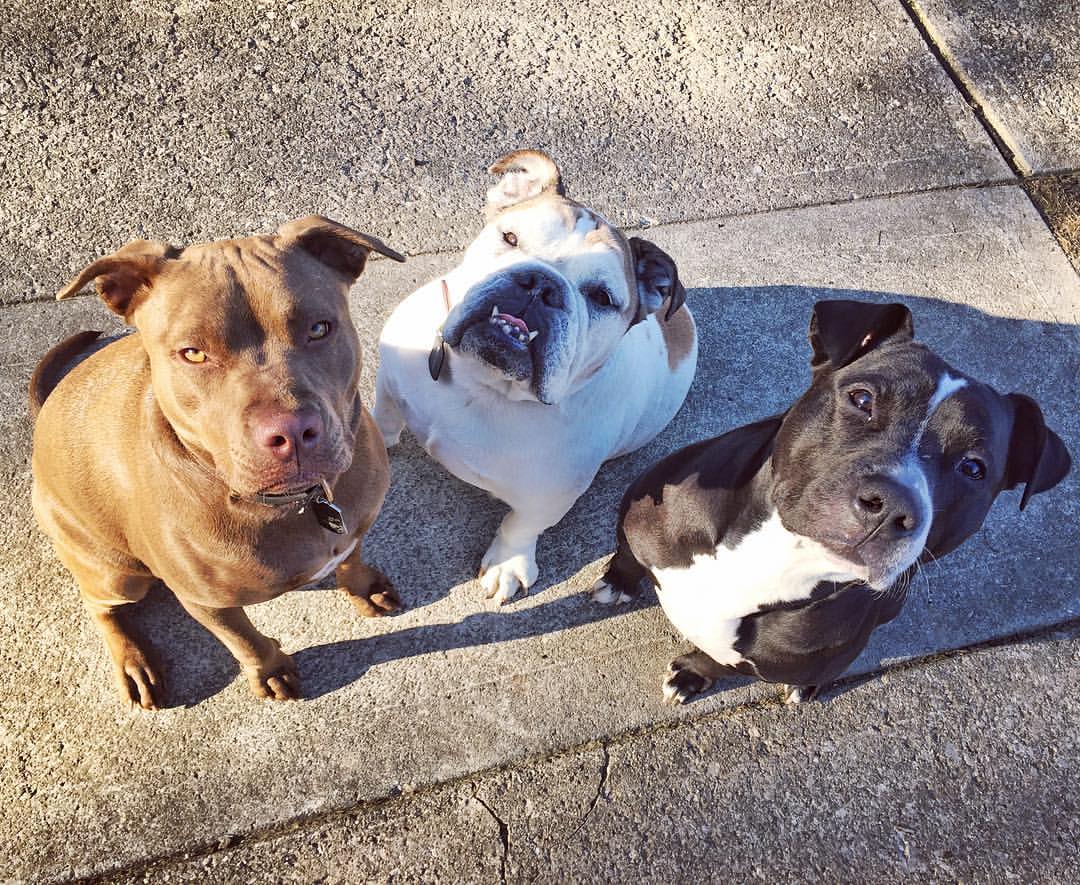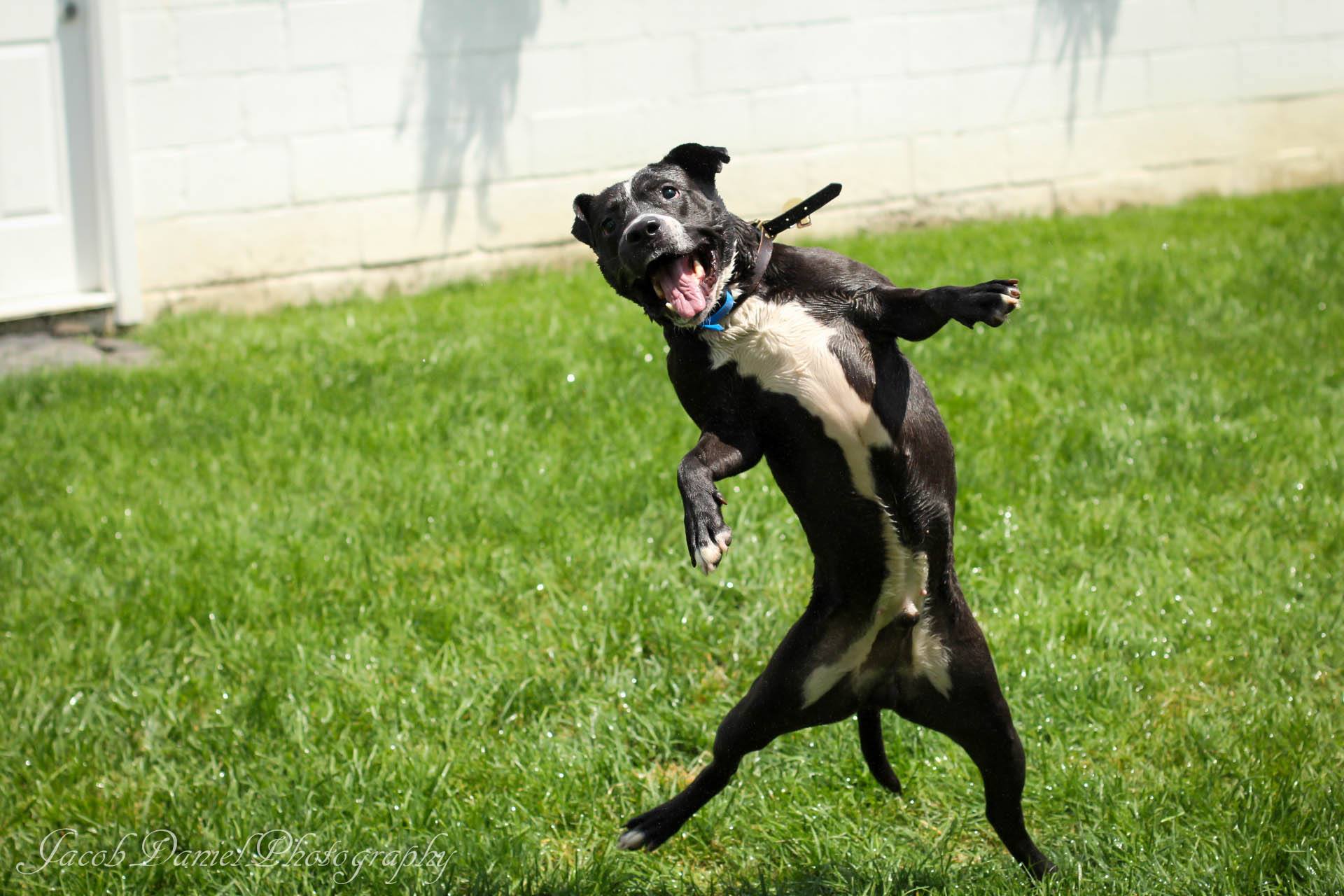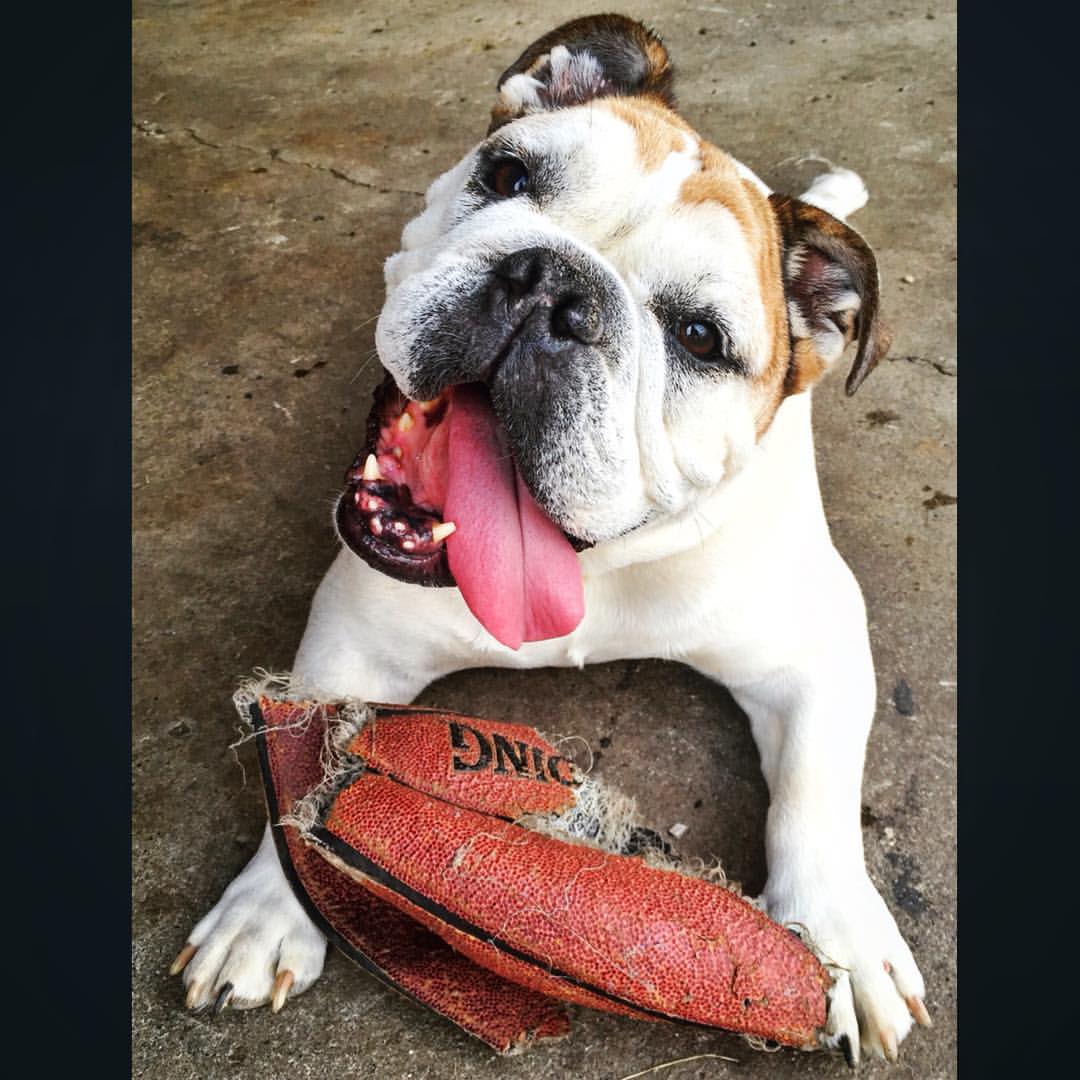 ---
Karen Curtin
Pet Sitter, Dog Walker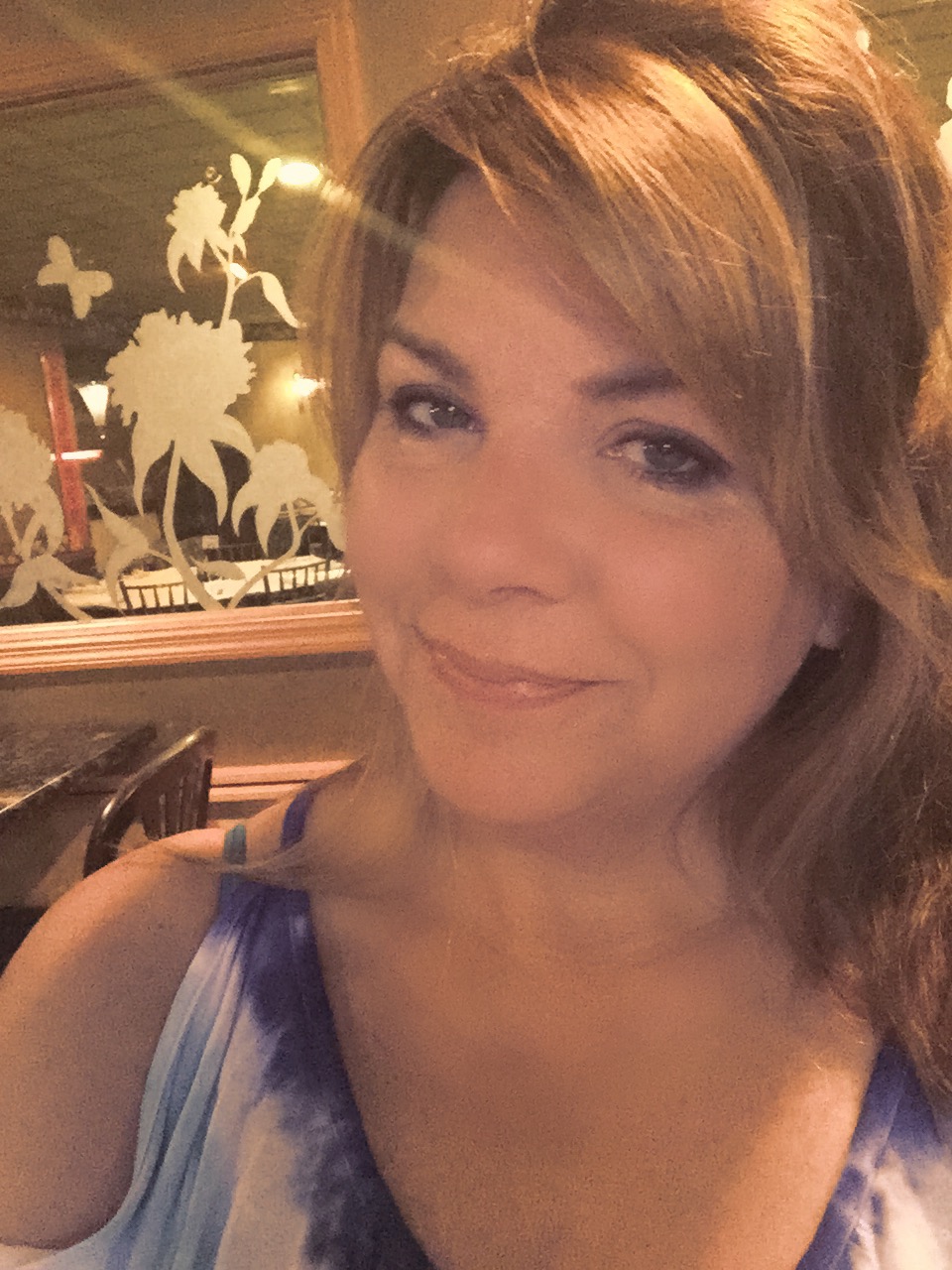 Hi, my name is Karen and recently moved to Grove City with my husband Robert. We are loving this area, and are so glad we moved here! I have two grown boys that no longer need their mama, so I have time on my hands and I love animals so working for Bart & Gabriel Pet Sitting is a perfect fit. I lost my best friend who was a Wheaten terrier recently and am not ready for another pet. However I still love the interaction with animals. I know how important our pets are and how they are members of the family. I promise to follow your instructions and take very good care of your precious fur babies.
---
Sompong Onechanmy
Pet Sitter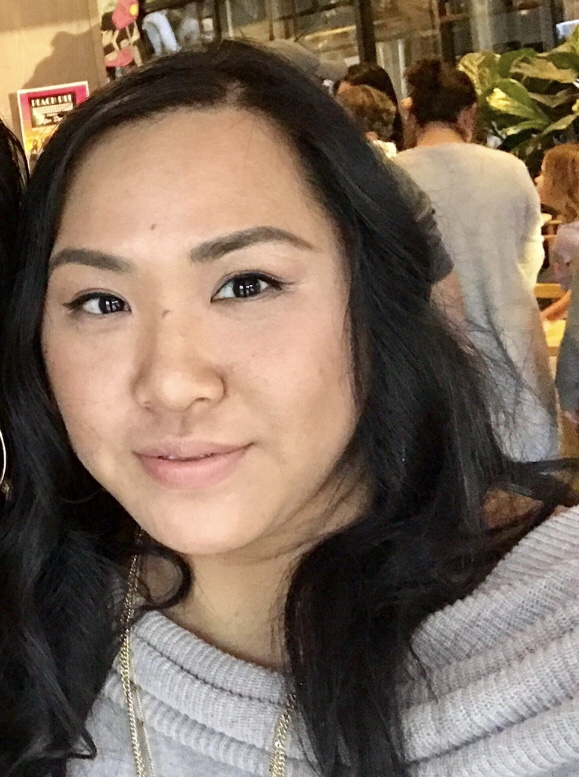 My name is Sompong and I moved to Columbus from Louisville, KY in 2008 to pursue a Bachelor's at The Ohio State University. During college, I picked up pet-sitting through co-workers and family friends and realized that I really enjoyed being around animals. Growing up I was never allowed to own a dog or a cat but when someone stuck a puppy, a duckling or even their senior citizen pet in my hands my heart melted and I instantly fell in love with their pet's loyal spirit. After two to three years of experience of caring for other people's pets I decided to rescue a dog of my own and I named her Cupcake. She is a two year old Red-nose pit-bull Staffy-mix and her temperament is quite the opposite of what the media portrays of pit bulls. She loves cuddles and stuffed animals although she can destroy any toy within seconds (Lots of vacuuming and picking up fluff around our house). She is playful, social and a very careful listener. Her energy definitely has helped me with some tough times in life after college. Life with a dog is much better than without one and sometimes I wish I could bring her everywhere with me. Being a pet owner comes with a lot of responsibilities and I understand that Life can throw curve-balls at our daily routines and sometimes we need extra help with caring for our beloved pets. So, with the help of Bart & Gabriel's services I hope to accommodate you and your pets' to the best of my ability!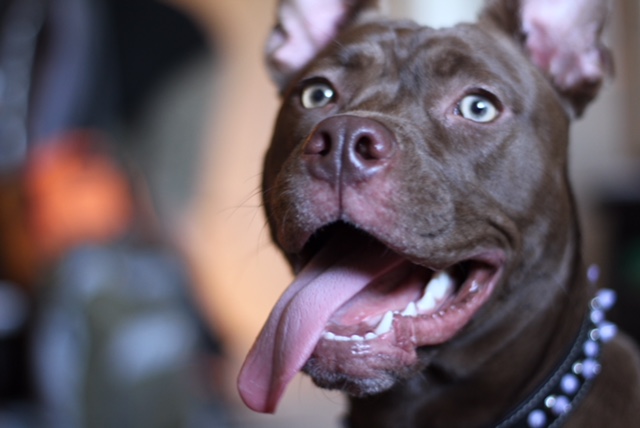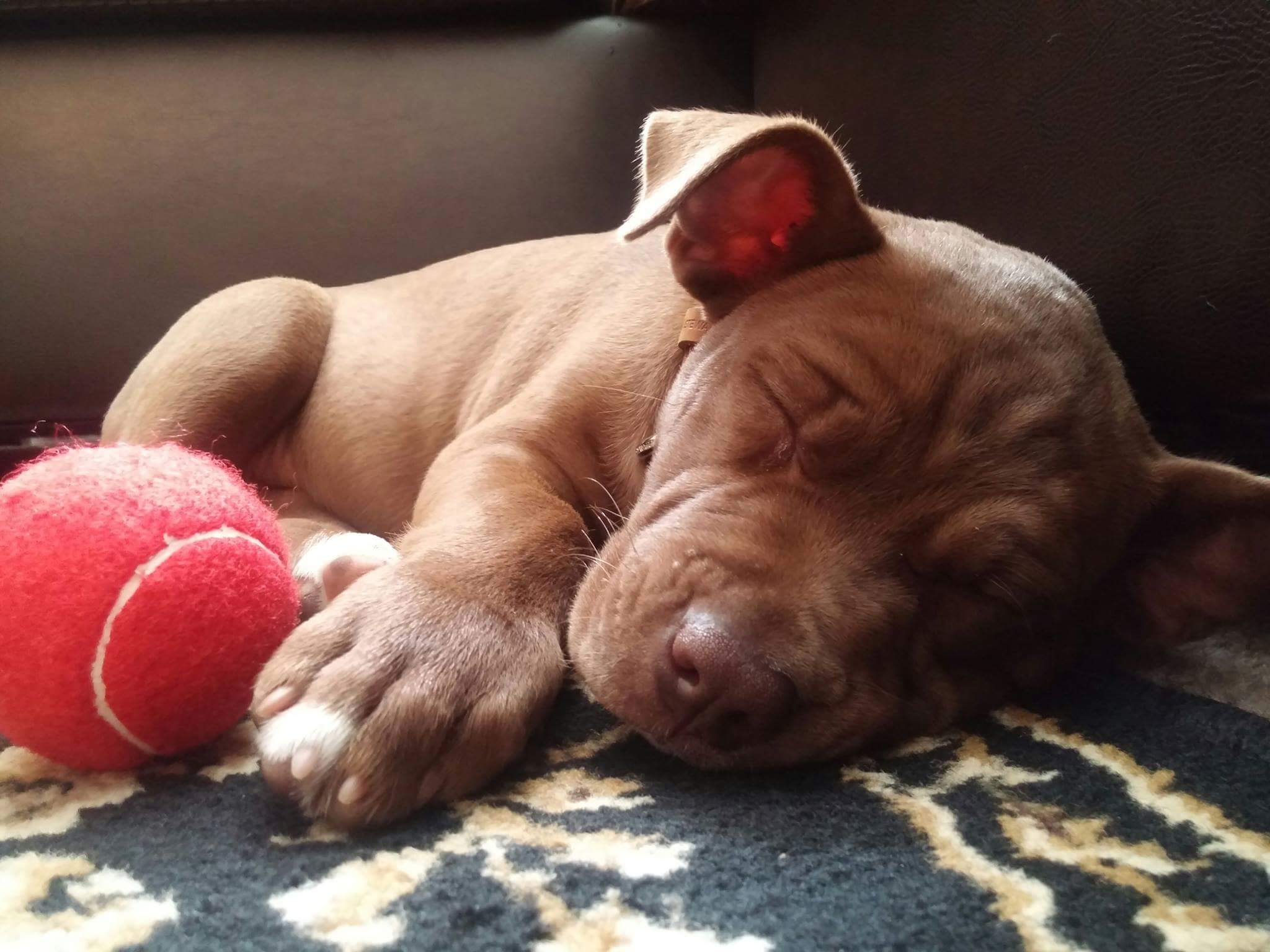 ---
Brad Whitten
Pet Sitter, Dog Walker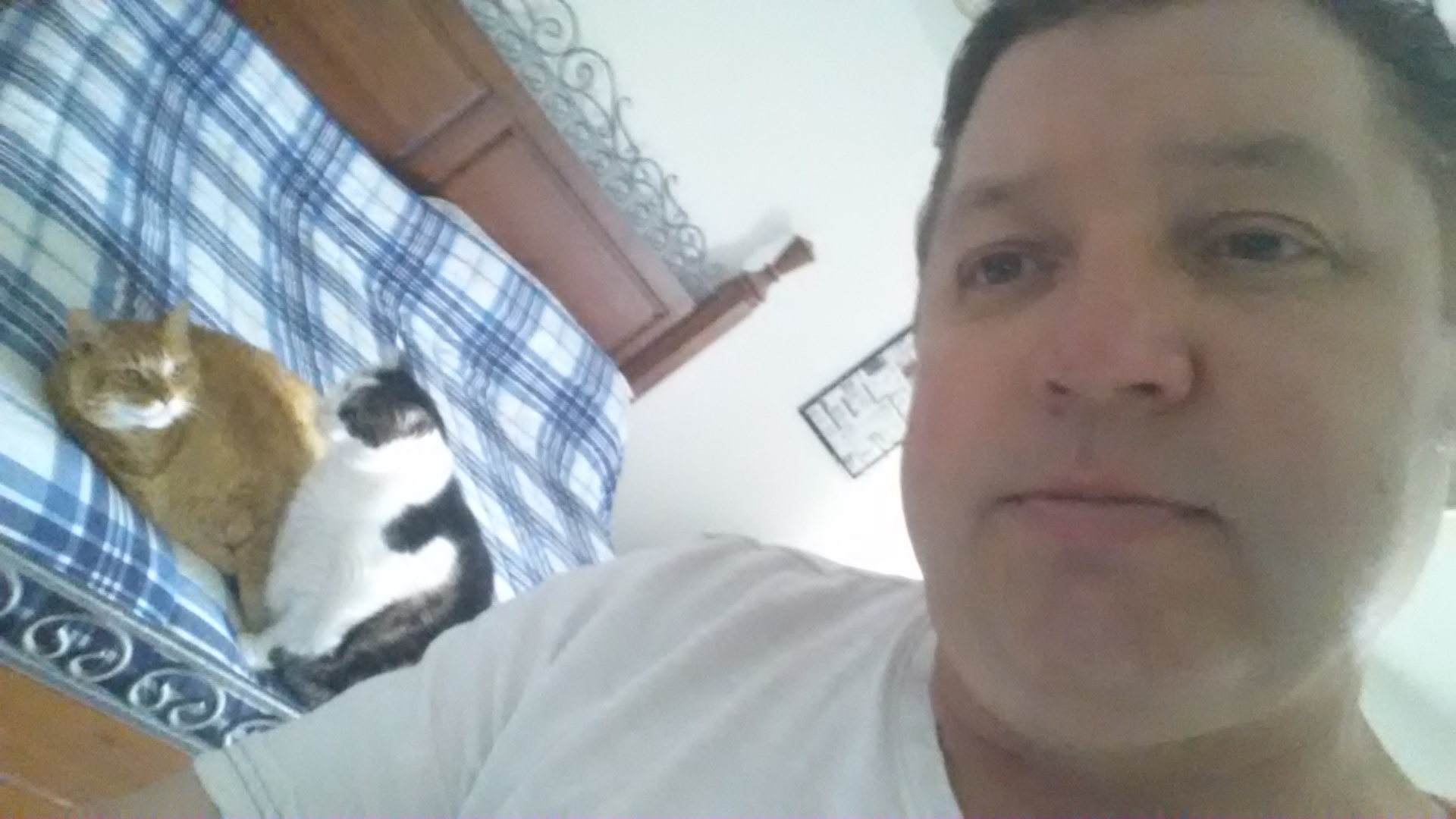 Hello, my name is Brad Whitten. I live in Upper Arlington with my two cats, Nash (orange tabby) and Beans. I am originally from the southern part of the state, but have lived and worked in the Columbus area for 30 years. I have a Mathematics degree from Ohio University, and have worked in the insurance industry for most of my adult life.
I have been a huge animal advocate my entire life. I grew up with dogs and cats, and loved every minute I could spend with them. I started volunteering at Citizens for Humane Action animal shelter in 1993, and am currently a lead cat volunteer there.
I have pet sat for friends and family for years. I love helping animals and pet owners any way I can, so am very excited to work with Natasha and her crew going forward!
---
Hope Weininger
Pet Sitter, Dog Walker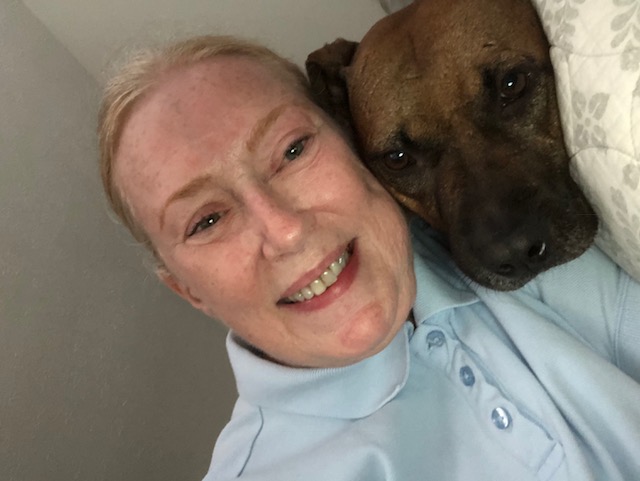 Hope is a recently retired Project Manager/Support Analyst and has had many pets over the years; including dogs, cats, fish, guinea pigs, hamsters, ducks, chickens, birds and a baby pig named Groucho. Currently she has a rescued American Staffordshire Terrier (who had a difficult early life) named Maggie who thinks it's her job to run the house!
I really enjoy working with Natasha's merry band of pet lovers and look forward to meeting all of my new best friends!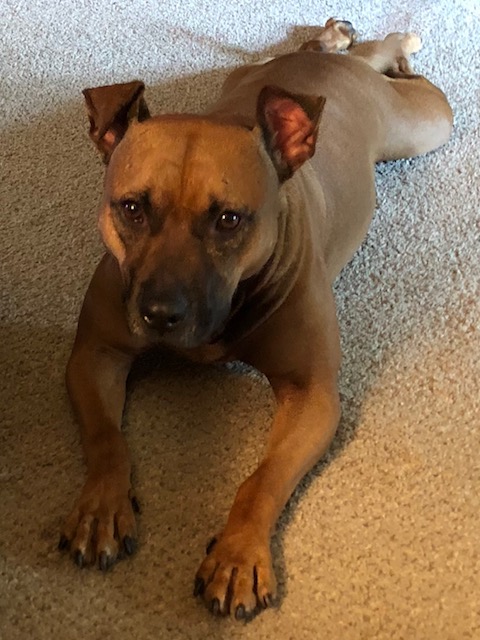 ---
---
Kate Toadvine
Pet Sitter, Dog Walker
Hi! I'm Kate Toadvine. My family and I moved to Grove City from the St. Louis area about 5 years ago and we love it here! My husband of 17 years works at Home Depot and my son goes to Jackson Middle School. I love to spend time with my family, play volleyball, garden and just be outside in general.
I work as a lead administrative assistant at Nationwide Children's Hospital, but can't wait to come home to my family, including our fur babies. Shadow, our German Shepherd is 6 years old and Chief, a beagle mix is 11. All the stressors of the day just melt away when I see their faces and get to play with them. I can't wait to meet your pets and have the opportunity to care and love on them too.
---
Bart & Gabriel Pet Sitting will provide your pets with the attentive, loving care they deserve while you're away.
---